Trafalgar
Book your TRAFALGAR Europe and US Tours with Jetabout Holidays!
Trafalgar's guided holiday is arguably one of the world's favourite providers of great value holidays to various holiday destinations and hotspots. Founded in 1947, Trafalgar hires only the best tour directors in the industry to ensure that when you book a guided tour with us, you will enjoy the perfect holiday! Trafalgar's guided holidays takes you into the heart of your chosen holidaying country, providing an exclusive perspective on the people, places and history that you will be visiting and experiencing.
And now with Jetabout's partnership with Trafalgar guided tours, you too can book your very own Trafalgar guided tour to complement your holiday itinerary! Some guided tour destinations by Trafalgar include France (eg. The Treasures of France tour where tourists will visit the historic landing beach of Normandy), England (for instance the English countryside garden tours) and the United States of America (eg. Wonders and Flavours of The Golden State, a California themed tour)
---
 Current Promotions:
Trafalgar Hot Deals Europe & Britain - See full pricelist for this promotion
here
Booking Period
: Now to 3rd April 2017
Best of Britain Summer 2017 | 11 Nights 

 (Save USD459)
British icons - new and old - will shape your journey, from Liverpool's Fab Four to Shakespeare. Travel to the Scottish Highlands, exploring rugged Dartmoor, the idyllic Lake District and Tudor town of Chester. Take a ferry to the Isle of Skye and contemplate battles fought on Culloden and the golfing grounds of St. Andrews before travelling to Edinburgh and Stratford-upon-Avon.
Departing:
15 April 2017
Was USD2295
|
Now USD1836
Northern Spain | 11 Nights  

(Save USD314)
Your pilgrimage through northern Spain begins in the colourful Costa Brava city of Barcelona, weaving through bull fighting territory, the culinary capital of San Sebastian and Bilbao, home of the Guggenheim Museum. Marvel at the lush northern peaks of Picos de Europa, visit the pilgrim city of Santiago de Compostela and bask in the golden glow of ancient Salamanca
Departing:
22 April 2017
Was USD2095
|
Now USD1781
Prague Vienna and Budapest | 10 Nights  

(Save USD266)
Explore Central Europe's centres of culture and arts - three riverside cities straddling mighty rivers and promising centuries of tradition and an exhilarating youthful energy. See Prague's Astronomical Clock and Old Town Square, treat yourself to a slice of 'Sachertorte' and visit Hofburg Palace in Vienna. Follow the Danube to Budapest, visiting Buda's Castle District and the Fisherman's Bastion.
Departing:
21 April 2017
Was USD1775
 |
Now USD1509
Best of Morocco | 9 Nights  

(Save USD254)
A land ablaze with vivid hues of maroon, tangerine and gold. Behold the cacophony of buzzing bazaars and the shimmering Sahara when you journey to Morocco's charming cities of Casablanca, Fez and Marrakesh. Travel to the life-giving oasis of Tinghir, brave the Todra gorge yielding dramatic visas and visit Ouarzazate, the setting for numerous famous movies, including Lawrence of Arabia and Cleopatra.
Departing:
21 April 2017
Was USD1695
|
Now USD1441
Best of Greece | 8 Nights 

(Save $175)
Cast your mind back over millennia, your footprints following those of Alexander the Great, Aristotle and Plato. Explore the mighty kingdom of Ancient Greece, from the Temples of Zeus and Hera, the Parthenon and Delphi on the slopes of Mount Parnassos. Walk the Sacred Way to the 4th century Temple of Apollo and greet the gods and goddesses of Olympia.
Was USD1750
 |
Now USD1575

Watch
---
Trafalgar Brochures
TRAFALGAR Autumn, Winter & Spring 2016 / 2017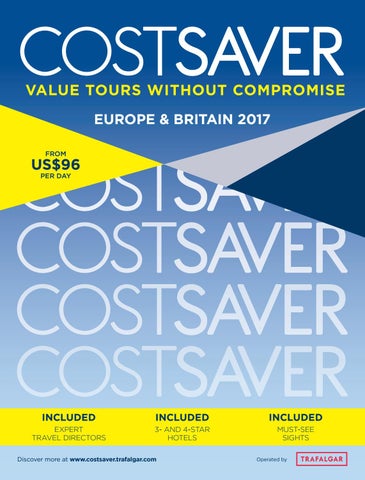 TRAFALGAR CostSaver 2017
TRAFALGAR Europe & Britain 2017
Enquire Now
For booking and enquiries to enjoy any of the below promotion, please call us on 6734 1818 or email e_retail@jetabout.com.sg
---