Trafalgar
Book your TRAFALGAR Europe and US Tours with Jetabout Holidays!
Trafalgar's guided holiday is arguably one of the world's favourite providers of great value holidays to various holiday destinations and hotspots. Founded in 1947, Trafalgar hires only the best tour directors in the industry to ensure that when you book a guided tour with us, you will enjoy the perfect holiday! Trafalgar's guided holidays takes you into the heart of your chosen holidaying country, providing an exclusive perspective on the people, places and history that you will be visiting and experiencing.
And now with Jetabout's partnership with Trafalgar guided tours, you too can book your very own Trafalgar guided tour to complement your holiday itinerary! Some guided tour destinations by Trafalgar include France (eg. The Treasures of France tour where tourists will visit the historic landing beach of Normandy), England (for instance the English countryside garden tours) and the United States of America (eg. Wonders and Flavours of The Golden State, a California themed tour)
---
 Last Minute Deals
The Treasures of France | 8 Days 

 (Save USD300)
Explore centuries of French heritage as you cross the valleys and vineyards of the north in search of beauty and to mourn the tragedy of war. Visit Joan of Arc's Rouen, the D-Day landing beach at Omaha and marvel at the architecture and masterpieces of France's most famous fairytale châteaux before visiting vibrant Paris and the exquisite Palace of Versailles.
Promo Code:
PPLMDE40

Departing:
24-Jun-2017
Was US$1995
 |
Now US$1695
Best of Germany | 12 Days  

(Save USD350)
Baroque cities, the Bavarian Alps and mythical Black Forest - this one's straight out of a Brothers Grimm fairytale. Circle north, south, east and west to see the Pied Piper's Hamelin, medieval Rothenburg and Munich's musical Glockenspiel. Explore the magical castles of Neuschwanstein and gain insight into a 'divided Germany' in Berlin and the little village of Mödlareuth.
Promo Code:
PPLMDE41

Departing:
26-Jun-2017
Was US$2350
 |
Now USD2000
Best of Germany and Austria Summer | 13 Days  

(Save USD400)
An epic journey through Germany and Austria - the sounds of Bach and Mozart accompany as you explore the imposing spires of Cologne and Salzburg, cruise along the Rhine and criss-cross 'East' and 'West' in Berlin. You'll also sample traditional Tyrolean hospitality, visit the city that inspired 'The Sound of Music' and tuck into Vienna's 'Kafee und Kuchen' culture.
Promo Code:
PPLMDE42

Departing:
16-Jul-2017
Was USD2750
 |
Now USD2350
Best of Italy and Sicily | 15 Days  

(Save USD500)
A full odyssey of Italy and Sicily, from the meandering 'calli' of Venice to the Grecian remains of Agrigento. See the imperial monuments of Rome, the Romanesque architecture of Pisa and Venetian glassblowing on Giudecca Island. Travel through the heart of Italy to Pompeii, Naples and Sorrento before your Sicilian hop to Palermo, Taormina and the Valley of the Temples.
Promo Code: 
PPLMDE43

Departing:
21-Jul-2017
Was USD3425
 |
Now USDUS$2925
Wonderful France | 9 Days 

(Save $350)
Pop the cork for a sparkling encounter with Paris, the French Riviera, Burgundy's gastronomic talents and the Roman footprints left on the French landscape centuries ago. View the Palace of the Popes at Avignon, soak up the sun-kissed charm of the Côte d'Azur and meet the widow of Pierre Salinger, special advisor to John F. Kennedy, over a home-cooked meal
Departing:
22 Jul 2017
Was USD2325
 |
Now US$1975
Italian Concerto | 11 Days 

 (Save USD400)
The tragic story of Pompeii takes centre stage on this journey from Rome, past the trendy Amalfi Coast and north to Venice via Florence. Take a walking tour past the ruins of the Amphitheatre, Temple of Apollo and Basilica, and hear how the 79AD eruption of Mount Vesuvius destroyed the city, killing its inhabitants and burying it under tons of ash.
Departing:
31-Jul-2017
Was USD2625
 |
Now US$2225
Best of Italy | 13 Days 

 (Save USD310)
Add a dash of 'issimo' to your love affair with Italy as you explore its captivating landscapes, culture, and the mouth-watering flavours that have inspired its residents to coin the phrase: "First we eat, then we do everything else..." Your Italian discovery made ever more delectable amidst the lemon scents of Sorrento, Renaissance romance in Florence and imposing Rome.
Departing:
02-Aug-2017
Was USD3050 
|
Now US$2740
European Splendour | 8 Days 

 (Save USD197)
From Michelangelo to Shakespeare, Europe's greatest works are on display as you trace the footsteps of illustrious visionaries. Marvel at the Pietà and sweep your eyes over panoramic views from 'la tour Eiffel' as you explore the highlights of Rome, Florence, Venice, Lucerne and Paris with a few masterpieces in between.
Departing:
10-Aug-2017
Was US$2650
|
Now US$2250
Conditions:
Valid on Trafalgar & CostSaver selected itineraries & departures only.
Not valid with in conjunction with other promotions.
Brochure Discount is NOT applicable.
Strictly valid for NEW bookings with minimum 2 persons travelling together only.
Trips will be advertised as Sell Price as indicated in above.
Adult / Child at same rate. 

Watch
---
Trafalgar Brochures
TRAFALGAR Autumn, Winter & Spring 2016 / 2017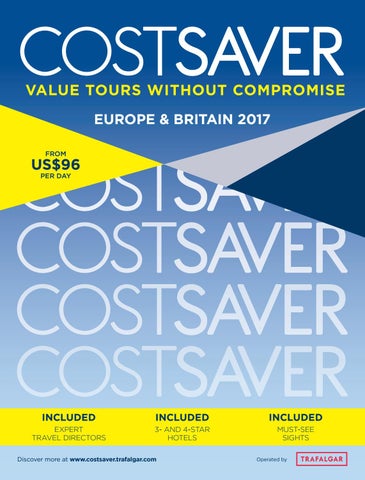 TRAFALGAR CostSaver 2017
TRAFALGAR Europe & Britain 2017
Enquire Now
For booking and enquiries to enjoy any of the below promotion, please call us on 6734 1818 or email e_retail@jetabout.com.sg
---